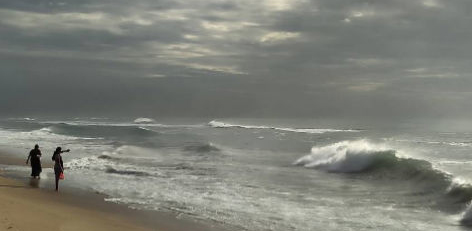 There is a development in the upper layers of the atmosphere with the prospects of a cyclonic format towards the Chennai Metro city.
IMD, Indian Meteorological Department, has informed that there is a cyclonic format prevailing in the upper layers of the atmosphere over the areas of the South China Sea and Thailand. As this format intensifies, it is expected that a depression zone will be developed over the southeast of Andaman Islands.
There are strong prospects of the depression zone to intensify further and drift towards the west or northwest direction. Ore exact details can be ascertained regarding the direction and intensity after the formation of the depression zone.
As for the forecast from the private weather agencies, this depression zone may drift towards the west in the direction of the areas between the Chennai Metro City and Nellore. Presently, even if the depression zone transforms into a cyclonic format, it is expected to weaken over the seas and will cause medium rains in the areas of Chennai and the adjacent coastal districts.
Meanwhile, due to the depression zone located over the Mannar Bay, there has been lesser rainfall as compared to the expected level. However, there was a heavy downpour in Sri Lanka. It has been estimated that there are prospects of heavy rains in Nagapattinam, Ramanathapuram, and some parts of Tuticorin.