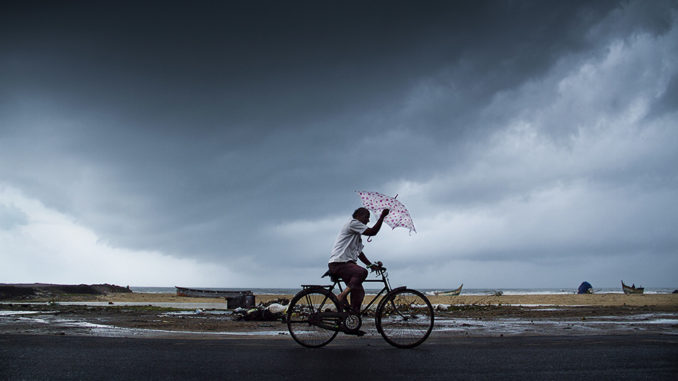 Trough to give some isolated rains today. To be honest we got more than what we expected in yesterday spell. This is what we max expect from a trough. it is not like Low Pressure to give widespread rains through out the day. Right now its raining in Annanagar – Ambattur. Other places it dry. it will give rains only like this.
KTC
——
Chennai and KTC will see break in rains from tomorrow. So today here and there sharp spells can be expected. Troughs cannot give rains stand and deliver rains. Yesterday Ponneri got 129 mm and Cholavaram got 80 mm. Redhills got 50 mm. Today again Cholavaram Lake has got 78 mm. Two days of heavy rains. The Northern aquifers where Metro water tap water got good rains. So after today another 10 days break for KTC belt.
2nd day of heavy Rainfall in KTC and where it matters the most ending 8.30 am on 05.12.2018. Massive 200 mm rainfall in Entry point in 24 hrs
————————–
in mm (min 10 mm)
Entry Point near Uthukottai – 206
Uthukottai – 124
Cholavaram – 78
Thamaraipakkam – 48
Poonamalle – 30
Meenambakkam – 23
Tirukalukundram – 22
Ponneri – 20
Katupakkam – 18
Redhills Lake – 16
Kancheepuram – 15
Mahabs – 15
Chembarabakkam – 13
Tambaram – 12
Kelambakkam – 11
Korattur Anaicut – 10
Sathyabama University – 10
Others (min 20 mm)
————-
Palani, Dindigul – 44
Kulasekarapattinam, Thoothukudi – 34
Kodaikanal Boat Club, Dindigul – 30
Papanssam Dam, Tirunelveli – 26
Polur, Thiruvannamalai – 23
Servalar, Tirunleveli – 23
Oddanchatram, Dindigul – 22
Kollidam, Nagapattinam – 22
Manimuthar Dam, Tirunelveli – 21
Thiruvannamalai, Thiruvannamalai – 20
Pattukottai, Thanjavur – 20
Coonoor PTO, Nilgiris – 20
Kodaikanal, Dindigul – 20
Thenparanadu, Trichy – 20
Thekkadi, Theni – 20
Kumarapalayam, Namakkal – 20
Others in Tamil Nadu
———————
Coonnor belt will see moderate rains…isolated rains in many parts of Tamil Nadu. Dont expect heavy spells..isolated spells possible in the interrios even Trichy, Tiruppur, down south the interrior South TN in virudhungar and nearby places will get isolated spells. In Delta, Thanjavur and near by delta places too might get rains.
MJO
———-
The savior of NEM, MJO is coming into our basin atlast. It should help in cyclogenesis and even when moves out to Phase 4 out of our basin, it might through a low pressure which might come into Bay of Bengal. So mid december and later we might see good second half of December.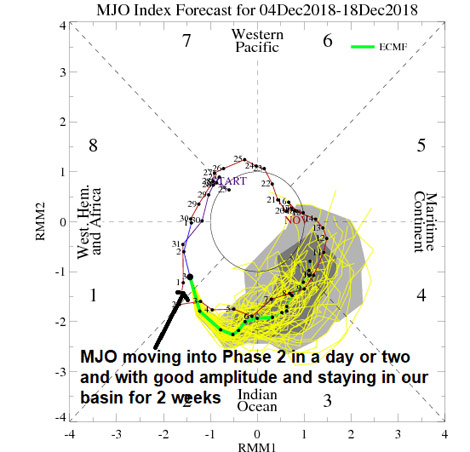 Mid-December
——————-
I have been telling for a while that around Mid December (15th December and later) is next date to watch. Tamil Nadu has got 320 mm till date and the target of normal NEM rains are 438 mm till 31st December so good chance for NEM to end around normal or above for Tamil Nadu . For Chennai we have got only 360 mm against 850 mm target till month end. So herculean task ahead. We need one of the historic December in 200 years to overcome the shortage. Lets hope Mid-December rains target KTC which needs rains the most rather Delta which is already in excess rains.