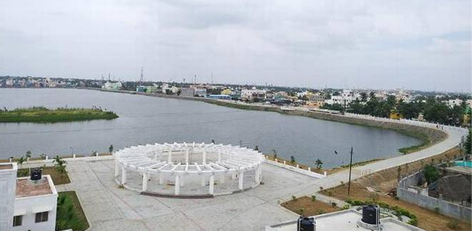 Chennai Corporation opened Chetpet eco-park with some of the exciting recreational space and tree zones. Now Paruthipattu Lake near Avadi will be soon opened for public as an eco-park. It was spread over an area of 200 acres lush green zone nearly 23 km away from the city. Sewage outfalls and other pollution based issues were constantly destroying the banks of the Lake Paruthipattu for many decades. Now the opening of the eco-park will retain the natural flora of the locality.
Three other lakes in the areas of Ambattur, Korattur and Retteri were also in the progress of restoring the entire eco system with green based recreational facilities. Paruthipattu eco-park will be opened first before all the other announced projects. The park will be of great use as a recreational center and natural rest place for the western suburbs of Chennai.
Water resource department completed eighty percent of the eco-park project. The rest will be completed by January on an estimated total budget of Rs 28 crore said one of the officials of the department. The lake will serve as a source for groundwater recharge in areas such as Adiparasakthi Nagar and Govardhanagiri said the sources of Water resource department.
Three kilometer walking track was planned to lay around the eco-park and already 1.9 km area was completed. Some of the portion near Periyar Nagar is in quick progress that will steadily increase the time rate of completion. People from Thiruvallur are also expected to visit this eco-park after the completion by January. Boat rides and deck with three landing areas are the main attraction of the eco-park. Two Islands have been created as a home for many nesting birds and small organisms that forms a big part of the proposed eco-location.
There is an open-air auditorium and a big seating arrangement as central plaza for people to relax. Children play area and plant zones are nearing the completion. The construction process of compound walls near the extension of Periyar Nagar is in progress. Entry fee and other details will be officially announced by Water resource department as the maintenance in terms of income and expenditure are still being analyzed by the department. The measures of the government to retain the water bodies along with the recreational facilities are well received by the public and the nearby residents offering a warm welcome for the initiative. The water saving system inside the park will prevent sewage water mixing along with the rainwater channels. It can also provide proper ways of flood water draining making sure the very purpose of the natural water body.