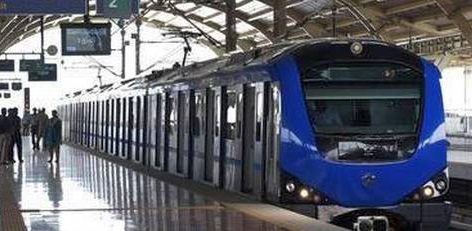 How would you react when you hear the news that in future having smart phone is sufficient for the passengers to board a metro train in Chennai? Surprised isn't it!!
It is now said that after the remaining underground stretch along Anna Salai becomes operational in 2019, the commuters might need only their smart phones and they would be able to board a metro train. It is important to note that CMRL or Chennai Metro Rail Limited would be introducing QR based tickets. The passengers would be able to buy their tickets through their mobile app and tap the QR code they get upon payment, on the scanners present at the AFC or automatic fare collection gates.
An official belonging to metro rail expressed his views and said feasibility was studied and tests were conducted. He spoke about how tenders would be invited soon and how the new plan might be introduced across all the metro stations. A passenger would have to select their origin, destination and the number of passengers and make a payment. By this the tickets could be purchased by the passengers using their smartphones. Then a QR code would be displayed. Passengers who use metro trains often as the mode of transport have got CMRL mobile app in their mobiles. This mobile app would be updated with the new feature soon.
At all the SFC gates in all the metro stations in Chennai, readers that could scan QR codes would be making its presence felt for the sake of commuters. It is clear that this mode of purchase of tickets by the passengers would promote digital transaction and it would be superb. An official hinted that by the above mentioned process the issue of handling accounts and cash would be much easier than before. He later said that this process could be helpful in saving money in making smart cards.