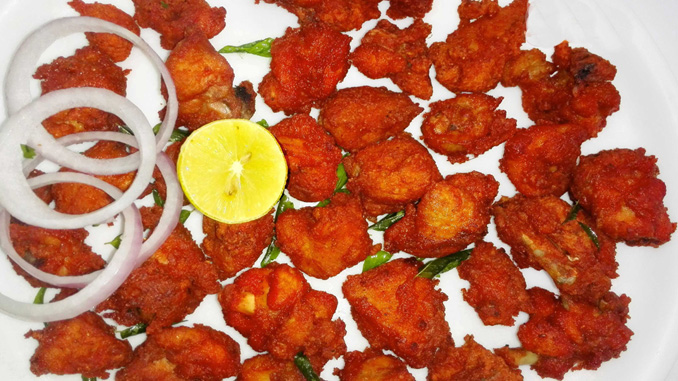 Chicken pakora is very crunchy and delicious starters. This receipe is very quick and easy to prepare within 10-15mins. Children would love it.  Try this chicken pakora have delicious time with your family.
Ingredients:
Oil for deep fry
10-15 pieces of bone less chicken.
1/2 spoon of Turmeric powder
1/4 spoon of red chilli powder
1/3 spoon of garam masala
1/2 spoon of chicken masala powder
2-3 spoons of gram flour
2 (1/2) spoons of corn flour
1(1/2 ) spoons of ginger garlic paste
Salt to taste
1 Big size of onion (sliced)
Coriander leaves(sliced)
1/2 Size of Lemon
Fried curry leaves and have some rounded shaped onion.
To Marinate:
Marinate the chicken with turmeric powder, red chilli powder, ginger garlic paste, corn flour, gram flour, garam masala, chicken masala powder and salt mix with some water to make a semi-thicker.
Let it marinate for 5-10mins
Method of Preparing Chicken Pakora
Slice the onions and coriander leaves
Take them in a mixing bowl
Now, mix onion and coriander leaves into marinate chicken.
Mix it well until it combine together.
Heat the oil in fry pan
Drop the chicken pieces one by one in hot oil.
Deep fry them in low medium flame, so that the chicken are well fried from inside too.
Flip over to other side, so that they get cooked evenly on both sides to crisp.
Fry until it gets golden brown in color.
Take it out in a tissue paper to drain the excess oil from it.
Serve hot chicken pakoras garnish with fried curry leaves and rounded shaped onions and Lemon.