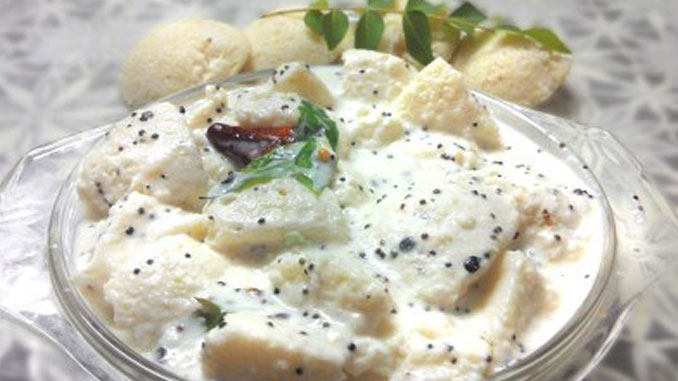 Chill Curd Idly famous dish in Tamil Nadu. It usually prepare by mixing idly with sour curd. The combination of sour curd with idly taste's yummy. This can serve for breakfast or at evening time. I tried this recipe for evening snacks. Surely children will like this dish.
Ingredients :
– 3 Spoons of Oil
– 1 ½ Spoon of Mustard seeds
– ½ Spoon of Asafoetida (Perungayam)
– 1 ½ Curd Cup
– 2 Green chillies cut into small pieces
– Curry leaves
– 3 Idli cut into pieces
– Salt to taste.
Preparation :
1. Take a pan add 3 spoons of Oil,
2. After oil gets heat add some mustard seeds, asafoetida powder, green chillies and curry leaves.
3. Fry it well and add curd into it and sprinkle the salt.
4. Let it boil for 15minutes and after add idli pieces and mix it well.
5. Now transfer into bowl and keep it aside for 10 minutes.
6. Chill curd idli is ready for serve.