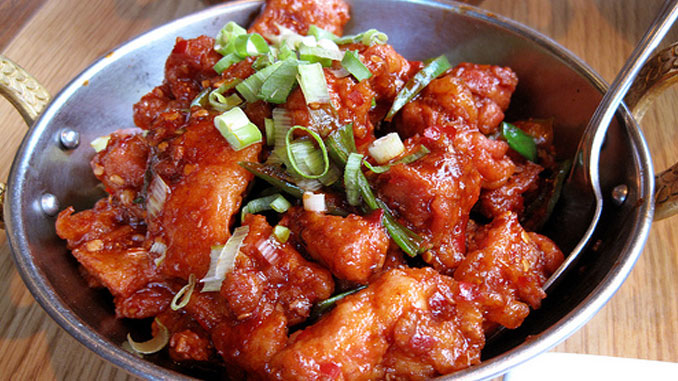 Chilli chicken
Ingredients :
Chicken – ½ kg, boneless, cut into 1-inch pieces
Onion – 2, medium size, finely sliced
Hand full of spring onions
Ginger – ½ inch size, finely chopped and crushed
Garlic – 2 beads, finely chopped and crushed
Tomato – 1, big size, fully ripe, pureed; or alternatively use 1 tablespoon of tomato sauce
Green chillies – 3, medium size,  finely chopped
Capsicum – 1, sliced length-wise
Red chilli powder – 1 teaspoon
Black pepper powder – ½ teaspoon
All purpose flour – 2 tablespoons
Soya sauce – 3 teaspoons
Salt – ½ teaspoon
Oil – 1 tablespoon
Preparation of Chilli Chicken
Mix well the flour, chilli powder, black pepper powder, soya sauce, tomato puree, ginger, garlic, and salt.
Add the chicken pieces to this marinade and marinate it covered for 2-4 hours in a refrigerator.
Heat oil in a fry pan and when the oil is very hot, add the onions and sauté till slightly golden.
Add the marinated chicken pieces and capsicum and sauté on low heat for 30 to 35 minutes or until the chicken is tender taking care not to burn the chicken pieces by stirring continually.
Sprinkle a litte hot water only whenever needed while cooking.
Serve it hot garnished with onion rings, ,Spring onions, lemon wedges, tomato slices, and/or fresh green chilies as an appetizing snacks. Enjoy!