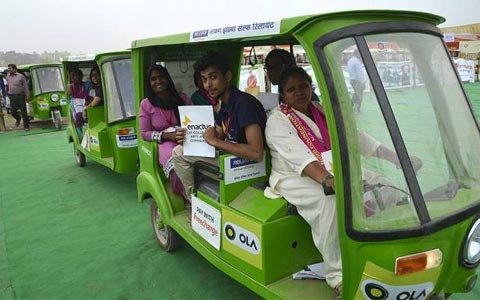 The noted international call-taxi company Ola, has decided to introduce e-rickshaws, vehicles which run on electric power with the excellent attractive features of lower rates and no harm of pollution to the environment.
After the advent of the international organization in the call-taxi services, this industry has been picking up in business in various cities in the
These international organizations provide services to the leading corporate companies offering their customers travel at a reasonably lower expense. So, a trend has arisen with more people using the facility of call-taxi services.
The internationally well-known organization Ola has been offering various concessional offers to attract the customers.
In this scenario, Ola has now come forward to introduce 10000 e-rickshaws as a further attraction to the customers.
Ola will be introducing these e-rickshaws not only in the metro cities of Chennai, Mumbai, and Bengaluru but also in other smaller cities.
2 passengers can travel in the e-rickshaws and the rates will be reasonably lower.
Ola explained: 'We have decided to expand our trade in India and have been initiating several measures accordingly. As a part of this, we plan to run e-rickshaws, About 10000 e-autos are to be deployed in various cities in the country. We have already started operating e-rickshaws on a trial basis in a few cities.'