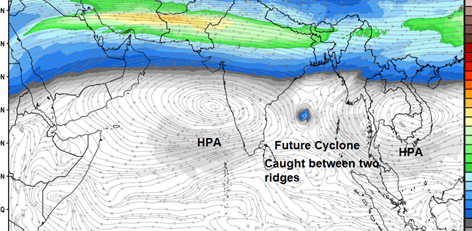 Upcoming low gives hopes of rains for north Tamil Nadu including Chennai around Mid-November
===================
The North East monsoon in the NTN belt has been limited to two spells so fare with one being during October 4-5th and another in November 1-2nd. This all could change by mid-November. The Low Pressure Area moving in from Gulf of Thailand is expected to become a named cyclone in open seas and then move towards Tamil Nadu coast around 15th November.
Caught between two ridges and atlast steered by Indian Ridge towards Tamil Nadu
———————–
Many times you would have seen apps / weather websites showing the upcoming low moving one day towards Burma and other day towards TN. The answer lies in the steering (Refer image attached). Initially the system near Andaman is being steered by the Ridge from Pacific and you can curved away to Burma But you can see in the image, after coming to mid Bay of Bengal, the cyclone is caught between the ridge from the Indian side and Pacific side. So what would be the outcome. The outcome i have already said on Diwali eve. This system is marked for Tamil Nadu. How it is going to come to us is the only question. As u all know, the High Pressure (HPA) spins clockwise while Low pressures / Cyclones spin Anti clockwise in Northern Hemisphere. Cyclones always traverse around the ridges of these High Pressure. At one point in open seas our Indian ridge takes control and steers it downward back to Tamil Nadu. So the probability of it going to Odisha and Andhra is completely can be completely ruled out as you can see the Ridges blocking it. It has to be either Tamil Nadu or Burma. And as of now the probability of it coming to Tamil Nadu is very high.
Dry days ahead for next 4-5 days
——————–
Whether the upcoming system which is expected to come towards Tamil Nadu will be going to be rain filled one, or a windy one or a buss we will know in next 3 days with Nagai to Pulicat being the ideal location for landfall if any. Till then for next 4-5 days most of the Tamil Nadu including Chennai will be dry except the southern tip. As you can see the high pressure is dominating Tamil Nadu, one can feel chillness at night and even dew (pani thuligal) in the morning till November 14th and dew does not mean rainy season is over, it is because of the High Pressure and they are not stationary ones and common during north east monsoon.
Concerns for KTC
—————-
Two concerns remain one is dry air from the High Pressure, this should not affect the incoming low and it can kill a very strong system within few hours and even if the system sustains it should not be steered too down because again the rains will be limited to delta and below. Even if it is around pondy and cuddalore, the KTC belt will get rains. In the coming days we will get clarity. Further, we are just a week into the monsoon, lets not talk about monsoon failure too early. Nature knows the best to balance things and i will there each time to capture the trend, changes and interpreting it for you.
Fishermen
—————-
Avoid going into seas from 11th November in Bay of Bengal, the sea will be very rough from 11th November.
Courtesy: Tamil Nadu Weatherman