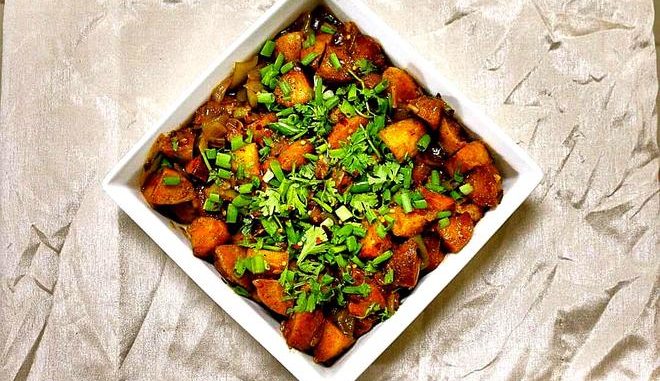 Idli Manchurian
Ingredients:
8 to 10 Idli's, cut into strips
1 cup capsicum, thinly sliced
1 cup tomato, finely chopped
1 cup onions, finely chopped
2 green chilies, finely chopped
1/4 teaspoon of red chilli powder
1/2 teaspoon turmeric powder
2 to 3 tablespoons of tomato ketchup or sweet
A small bunch of coriander leaves, finely chopped
A small bunch of mint leaves
A small bunch of Spring Onions
Oil for cooking
salt to taste
Method
Heat a tablespoon of oil in a pan and fry the Idli pieces until they are lightly crisp. Transfer to a bowl and keep aside.
the same pan add  2 teaspoons of oil, onions, capsicum, green chillies and saute them on medium heat until tender.
This takes about 5 to 7 minutes.  Then, add chopped tomatoes, salt, pepper, turmeric powder, chilli powder and stir well. Saute until the tomatoes turn soft.
Finally add tomato ketchup, the fried idli's, the chopped coriander, mint leaves and Spring Onions.
Stir fry on high heat until well combined just for about a minute. Turn off the heat and transfer the fried idli's to a serving bowl and serve hot.